Philadelphia Mold Removal
For 24 Hour Mold Removal And Mold Inspection Service
In Philadelphia Call (267) 214-7367
Using Precision Mold Removal means you are working with Philadelphia's top mold inspection and remediation specialists. Whether you need mold inspection, mold remediation or water damage restoration, our local contractors ready and waiting. Simply call!
We can typically provide 1-hour response time, 24 Hours a day – 7 days a week.  Hundreds of our satisfied Philadelphia clients are now enjoying a clean and safe environment in their home or business, thanks to us.
Our business and website exists to provide you with accurate information regarding mold inspection and mold removal services and cost, in Philadelphia. If you don't find what you are looking for on our site, just give us a call. We are always happy to provide a no-obligation consultation over the phone.
Why Choose Precision Mold Removal?
How Well Does Mold Grow In Philadelphia?
Philadelphia, also known as the City of Brotherly Love, is famous for its cheesesteaks, Liberty Bell, and its people. The extreme weather that also beats up Philly can lead to a wide range of problems, including mold. Mold is caused by water damage and can appear as greenish, black spots around your home or be present by floating around in the air you breathe.
Below is a list of some areas where you should be on the lookout for mold growth:
Basements

Bathrooms

Flood prone areas

Eves
Window sills

Floors

Walls

Anywhere water or moisture accumulates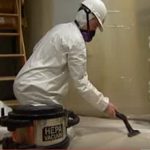 Even if you are vigilant, mold can go undetected for quite sometime. It can even be growing under or behind surfaces (like behind wallpaper, or under carpet or floorboards, for example) making it difficult to detect. That is why we recommend routine mold inspections by an experienced professional.
If you are already seeing or smelling mold, then it may have already been developing for a while. Delaying treatment of a mold problem can cause the problem to become much more extensive and expensive, and it can even be a serious health concern – especially if there is black or toxic mold present!
Signs and Symptoms of Black Mold
How Do I Know If I Have Black Mold?
There are some very small causes of black mold, as well as some very extensive ones as well. Whether you've found a leaking pipe or a problem behind a basement wall, it's important to catch the problem quickly so it doesn't lead to the massive problem that black mold can cause. Before this happens, you can easily watch your water bill for any spikes that should concern you because they mean that there's a leak somewhere in your home. It's these leaks that cause mold and leave you in need of a mold inspection in Philadelphia and possibly paying for the expense that mold removal in Philadelphia can bring with it. 
That being said, it is nearly impossible to identify black mold by sight. This is because there are many species of mold that are black in color, but not of the toxic variety. This is why you need a professional inspection.
Our local technicians have years of experience identifying and removing toxic mold. If you have had recent flooding or water damage, or if you see or smell mold, or if you haven't had a recent inspection…please call us right away!
No obligation inspection

Emergency response

Expert mold removal & remediation
Black mold removal

Water & mold damage restoration
Having mold testing

 in

 Philadelphia is important, especially when you stop to consider how much damage finding black mold in your home can cause

 – especially when it comes to your health. As this mold releases spores

,

 you'll ingest or inhale them, which can cause you to have a respiratory response that includes:
Breathing or lung related issues
Allergies or unexplained allergic reactions - coughing, sneezing, etc
Irritation of the eyes, nose, throat or skin
Unusual fatigue or headaches that won't go away
What Can I Expect During The Mold Removal Process in Philadelphia?
Unfortunately, mold remediation in Philadelphia is an expensive procedure. This isn't only because you'll need to hire an expert to find the mold in your home for you (if you don't already know where it's located), but also because you must factor in the cost of water damage restoration in Philadelphia as well. This will include repairing the water problem so that you will not face additional problems with mold in this location again in the future. 
Mold removal in Philadelphia starts with isolating the contaminated area and taking steps to suppress any dust in the location. Once you're set up you must place all wet and mold-damaged, porous materials into plastic bags before cleaning the surfaces on which the mold was growing. Sometimes this can be done with a damp cloth and some detergent, but if the problem is severe enough, you'll need to also vacuum these surfaces with a HEPA vacuum. After you're sure there's no mold, dust, or dirt left behind, you should clean the area before moving on to mold damage repair in Philadelphia.  
Clearly, there are lots of things you must be careful with here so that you don't exacerbate the problem. This is why this is a job that's best left in the hands of a professional who does this on a regular basis. With our local, trusted contractors you can expect:
Safe Mold Removal

Expert Mold Remediation

Experienced Water & Mold Damage Repair
One more thing…while there is a reasonable fee for our inspection, you can count on our local technician to be prompt, courteous, professional and NOT pressure you into a contract.
What Can I Expect The Cost To Be For Mold Removal in Philadelphia?
We think it's important for any potential clients to understand that there are several variables that can affect the overall cost of your particular case. The primary variable is whether simple mold removal is indicated, or if remediation and/or restoration will also be involved.
Removal is the most cost-effective treatment option, but is only effective if the mold outbreak is caught early and treated right away. If not, the mold will likely spread into other areas or deeper into your home, which may require repairs to be made to your structure. At the same time, it is possible that there are existing conditions in and around your home that created the problem and will likely cause the mold to return. That is where remediation comes into play.
The cost of your service will vary depending on these factors as well as the overall size of the job. So, it is impossible to provide precise cost figures without first completing an in-person inspection.
However, we won't nickel and dime you and we will be there with you through each step that is necessary. We guarantee that no work will be done without your permission.
Call us for a no obligation phone consultation. We are happy to discuss your needs and help you determine what, if any, of our services, would be of benefit.
The local Philadelphia experts you can trust – Precision Mold Removal (267) 214-7367
If you are looking for water damage restoration in
Philadelphia, PA

, Click Here.
Precision Mold Removal Philadelphia
221 Chestnut St 4th Floor
Philadelphia, PA 19106