For 24 Hour Mold Removal And Mold Inspection Service
In San Jose Call (408) 709-7642
Using Precision Mold Removal means you are working with San Jose's top mold inspection and remediation specialists. Whether you need mold inspection, mold remediation or water damage restoration, our local contractors ready and waiting. Simply call!
We can typically provide 1-hour response time, 24 Hours a day – 7 days a week.  Hundreds of our satisfied San Jose clients are now enjoying a clean and safe environment in their home or business, thanks to us.
Our business and website exists to provide you with accurate information regarding mold inspection and mold removal services and cost, in San Jose. If you don't find what you are looking for on our site, just give us a call. We are always happy to provide a no-obligation consultation over the phone.
Why Choose Precision Mold Removal?
How Well Does Mold Grow In San Jose?
San Jose has a very extensive metropolitan population, and with it, the many domiciles that people call home. Thanks to the warm yet humid weather, many of those homes struggle with issues relating to mold. 
As a homeowner mold is one of those things that can easily creep up on you, especially if you aren't continually watching for its growth. Considering all the health problems that are commonly associated with mold, and in the case of black mold can be somewhat scary. Here are some common places listed below that mold can grow:
Basements

Bathrooms

Flood prone areas

Eves
Window sills

Floors

Walls

Anywhere water or moisture accumulates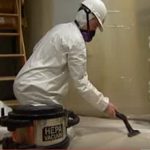 Even if you are vigilant, mold can go undetected for quite sometime. It can even be growing under or behind surfaces (like behind wallpaper, or under carpet or floorboards, for example) making it difficult to detect. That is why we recommend routine mold inspections by an experienced professional.
If you are already seeing or smelling mold, then it may have already been developing for a while. Delaying treatment of a mold problem can cause the problem to become much more extensive and expensive, and it can even be a serious health concern – especially if there is black or toxic mold present!
Signs and Symptoms of Black Mold
How Do I Know If I Have Black Mold?
Although it's possible for black mold to grow anywhere, it does thrive in warm, humid, and moist environments. You'll also find it in dry environments and those that have poor ventilation or air flow. This is why before you hire a professional to conduct mold testing in San Jose you can do a little investigative work of your own. Some of the ways you'll know that you may have a mold problem in your home include: 
Developing physical symptoms including sneezing, a runny nose, red eyes, and a skin rash that lessens when you're outside of your home
Visually seeing a patch of mold growing somewhere – typically near a leaking or dripping water source

 
When you suspect any of these things in your home, you should hire a professional to conduct a mold inspection San Jose. This is especially important when you can't seem to find the mold with your own bare eyes because they will have the equipment (e.g. air samplers, hygrometer, particle counter, moisture meter) they need to be able to find it for you so please call us right away!
No obligation inspection

Emergency response

Expert mold removal & remediation
Black mold removal

Water & mold damage restoration
How Much Should I Expect to Pay for San Jose Mold Removal?
We can't guarantee how other mold removal companies will treat you, but here is are some things to know when it comes to cost… While mold removal San Jose is a superficial process in which mold is removed from a surface, remediation is a much deeper process in which mold isn't only removed, but the source is discovered so that you can fix the root of the problem. This is important because you don't want to have to pay for the procedure a second or even a third time. The amount you'll pay here will depend on how extensive the job is but even the smallest job can be quite costly.
However, you can be assured that we are upfront with all potential fees.
We fully inform our potential clients of what is required for that particular job (along with all associated costs), and we do our best to make sure that all of your questions are satisfactorily answered before any contract work begins.
We want you to feel like you are in control of the entire process – from inspection to removal – so, we promise to make ourselves available to you for phone consultations, and to act as your advocate throughout the whole process.
A typical job starts with comprehensive professional inspection, which is a thorough visual inspection of the entire premises. Then, once all the mold and mold damaged areas have been properly identified and evaluated, your technician will provide you with a detailed and clear assessment. This will include our recommendations for any services required, such as…
Safe Mold Removal

Expert Mold Remediation

Experienced Water & Mold Damage Repair
One more thing…while there is a reasonable fee for our inspection, you can count on our local technician to be prompt, courteous, professional and NOT pressure you into a contract.
How Much Should I Expect In The Mold Removal Process?
We think it's important for any potential clients to understand that there are several variables that can affect the overall cost of your particular case. The primary variable is whether simple mold removal is indicated, or if remediation and/or restoration will also be involved.
Removal is the most cost-effective treatment option but is only effective if the mold outbreak is caught early and treated right away. If not, the mold will likely spread into other areas or deeper into your home, which may require repairs to be made to your structure. At the same time, it is possible that there are existing conditions in and around your home that created the problem and will likely cause the mold to return. That is where remediation comes into play.
Removing the mold from your home is a process you can't afford to put off. Although it's definitely a process, it's one you really need to get started on as soon as you suspect there's mold in your home.
The cost of your service will vary depending on these factors as well as the overall size of the job. So, it is impossible to provide precise cost figures without first completing an in-person inspection.
Call us for a no obligation phone consultation. We are happy to discuss your needs and help you determine what, if any, of our services would be of benefit.
The local San Jose experts you can trust – Precision Mold removal (408) 709-7642
If you are looking for water damage restoration in San Jose, FL, Click Here.
Precision Mold Removal San Jose
210 N 4th St Ste 200
San Jose, CA 95112