New York City Mold Removal
For 24 Hour Mold Removal And Mold Inspection Service
In New York City Call (646) 760-1630
Using Precision Mold Removal means you are working with New York City's top mold inspection and remediation specialists. Whether you need mold inspection, mold remediation or water damage restoration, our local contractors ready and waiting. Simply call or fill out the form below!
We can typically provide 1-hour response time, 24 Hours a day – 7 days a week.  Hundreds of our satisfied New York City clients are now enjoying a clean and safe environment in their home or business, thanks to us.
Our business and website exists to provide you with accurate information regarding mold inspection and mold removal services and cost, in New York City. If you don't find what you are looking for on our site, just give us a call. We are always happy to provide a no-obligation consultation over the phone.
Why Choose Precision Mold Removal?
How Well Does Mold Grow In New York City?
New York is known for many things: Broadway, Times Square, The Statue of Liberty, and being the city that never sleeps. Its population is extensive, so there are tons of homes and apartment complexes that make up the five boroughs. And unfortunately, mold can be a problem in our area, including black mold.
It's very important to understand things that cause mold, how it can cause damage, and how to know for sure if you are dealing with black mold because that type of mold is so toxic to your health and will require mold removal. Below are common places that you can find mold in your home:
Basements

Bathrooms

Flood prone areas

Eves
Window sills

Floors

Walls

Anywhere water or moisture accumulates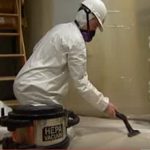 Even if you are vigilant, mold can go undetected for quite sometime. It can even be growing under or behind surfaces (like behind wallpaper, or under carpet or floorboards, for example) making it difficult to detect. That is why we recommend routine mold inspections by an experienced professional.
If you are already seeing or smelling mold, then it may have already been developing for a while. Delaying treatment of a mold problem can cause the problem to become much more extensive and expensive, and it can even be a serious health concern – especially if there is black or toxic mold present!
Signs and Symptoms of Black Mold
How Do I Know If I Have Black Mold?
It is nearly impossible to identify black mold by sight. This is because there are many species of mold that are black in color, but not of the toxic variety. This is why you need a professional inspection.
When you have a gradual leak in your home that lets water intrude therein, it can lead to the development of black mold. Whether this is caused by a small leak in your home's piping in a wall where you can't see it or in your basement's window well where you can see it, once you suspect that mold exists, you'll want to have mold testing in New York conducted. 
Hiring someone to do a mold inspection in New York for you is important if you see any of this mold forming or even if you believe that it might be somewhere in your home. Herein a qualified mold inspection expert will help you not only find any hidden mold, but also help you find its source. 
Our local technicians have years of experience identifying and removing toxic mold. If you have had recent flooding or water damage, or if you see or smell mold, or if you haven't had a recent inspection…please call us right away!
No obligation inspection

Emergency response

Expert mold removal & remediation
Black mold removal

Water & mold damage restoration
Don't take the risk of potentially living with black mold in your home. Some symptoms of prolonged exposure to toxic mold are:
Breathing or lung related issues
Allergies or unexplained allergic reactions - coughing, sneezing, etc
Irritation of the eyes, nose, throat or skin
Unusual fatigue or headaches that won't go away
What Can I Expect If I Have Mold Damage?
Finding the mold in your home is important because only then can you start the work of mold damage repair in New York. This mediation is a lengthy process and can be quite costly because the mold can do a lot of damage to your home. When left untreated for a lengthy amount of time it will rot the wooden structures surrounding it. 
We can't guarantee how other mold removal companies will treat you, but here is how Precision Mold Removal contractors approach the financial arrangements…
We are upfront with all potential fees.
There are many steps that your home must undergo when it needs mold removal in New York. Most of this mold remediation in New York requires isolating and repairing the area. However, when you discard the items you must do so carefully to make sure that the mold doesn't spread through your home or contaminate an area outside of your home. This is why we would encourage you to have this done professionally. We offer:
Safe Mold Removal

Expert Mold Remediation

Experienced Water & Mold Damage Repair
One more thing…while there is a reasonable fee for our inspection, you can count on our local technician to be prompt, courteous, professional and NOT pressure you into a contract.
What Can I Expect During The Mold Damage Restoration Process?
The primary variable on what you can expect is whether simple mold removal is indicated, or if remediation and/or restoration will also be involved. During the restoration process, once the mold has been properly cleaned out of your home, you may think that your job is over. Unfortunately, this is called a "process" for a reason: Your home will need additional environmental testing in the future. This is the only way of making sure that your home and your health doesn't suffer from any further damage.  
You also can't overlook the importance of water damage restoration in New York so that you can reconstruct your home and enjoy living in it mold free. Whether you have removed some wood that needs to be replaced or have some painting that you need to do, this is all part of a process that you will want to get started on today.
The cost of your service will vary depending on these factors as well as the overall size of the job. So, it is impossible to provide precise cost figures without first completing an in-person inspection.
Call us for a no obligation phone consultation. We are happy to discuss your needs and help you determine what, if any, of our services would be of benefit.
The local New York City experts you can trust – Precision Mold Removal (646) 760-1630
If you are looking for water damage restoration in New York, NY, Click Here.
Frequently Asked Questions
Can You Clean Up Mold Yourself?
The location of the mold plays a major role in how to clean it up. For example, you will need to use different tools depending on the location of the mold. Though you can clean mold by yourself, it is a dangerous undertaking and not something we recommend. When you scrub mold, it releases mold particles into the air, which you may breathe in. To prevent this, it is always better to opt for a professional cleanup team to help you with mold contamination. A professional cleanup team will make sure your home is safe from mold spores while they clean up.
What Is the Best Product to Kill Mold?
You can purchase products specifically designed for killing mold or you can use products that you have already lying around your house. However, it's best to get the mold inspected first to see the extent of the damage and to make sure the mold you have isn't black mold. Generally, pre-made products will cost you a little more, but the price tag may be worth the investment depending on how serious your mold contamination is. However, serious mold contaminations require extra attention. In many circumstances, mold will come back if not handled properly. This is why we recommend leaving mold cleanup to the experts. We can make sure your mold problems don't keep reoccurring after cleaning up.
Could I Use Bleach or Vinegar to Kill Mold?
When it comes to mold, not all contaminations are the same. Some contaminations infect far past the surface you can see mold while others are simple surface contaminations. To decide whether bleach or mold is the best product for getting rid of mold contamination, you need to take note of the surface the contamination is on. For contaminations on porous areas like wood, vinegar is best to kill mold while the bleach is better for harder surfaces. Though you can use these products to kill mold, there is no way to know if you have killed the source of the mold. A professional mold remediation team can help you clean mold and make sure it never comes back by locating the cause of mold growth.
Do I Need a Mold Inspection?
Chances are if you haven't ever had a mold inspection, you need one. Many people think their houses are free from mold, but this often is not the case. If you live in an older house, there is a good chance that there is mold growing somewhere unseen in the crawlspace or even the sheathing of your home. However, even modern houses aren't safe from mold contamination. Many builders try their best to make sure mold doesn't grow in their buildings, but it is impossible for houses to stay mold-free without taking very thorough measures. A mold remediation team can locate mold inside your home, even if it is not visible.
Precision Mold Removal New York City
29 W 36th St 3rd Floor
New York, NY 10018