For 24 Hour Mold Removal And Mold Inspection Service
In San Antonio Call (210) 987-9785
We think our local contractors are the top mold inspection and remediation specialists in San Antonio. Why? Because they have the years of training and experience to handle any job – big or small!
Whether you need mold inspection, mold remediation or water damage restoration, we are waiting for your call.
We offer 1-hour rapid response in most cases, and our service is 24 Hours – 7 days a week.  We've helped many hundreds of our San Antonio neighbors to get back to enjoying a clean and safe home or work environment, by completely eliminating their mold problem.
Why Choose Precision Mold Removal?
Mold Growth in San Antonio
San Antonio has a high rate of mold infestation due to its typically warm and humid climate, and the fact that it's situated in one of the most flood-prone areas in the nation (one of the prime factors for a mold outbreak is recent water damage).
If your home experiences flooding or moisture retention of any kind, then it is likely that mold will begin to grow – in many cases thrive – unseen and undetected for weeks or even months. This often results in serious health effects for the inhabitants; usually your family or employees.
That is why it is so important to get rid of the mold immediately!
Also, if your home or business has experienced flooding of any kind, it's best to eliminate any and all standing water as quickly as possible. Likewise, if you notice water damage as the result of a flood, it is best to have it professionally repaired as soon as possible, so as to reduce the potential for a mold outbreak
Our services:
Water & Flood Damage Restoration

Mold Inspection

Insurance Coordination
Mold Remediation

Black Mold Removal

24-hr Emergency Response
Signs and Symptoms of Black Mold
What About Black Mold in San Antonio?
Black mold is a problem that should not be ignored. Actually, any form of toxic mold can be very dangerous. The problem is, you can't tell what kind of mold is infecting your home just by its color, or any other visual characteristic for that matter.
That is why we recommend all our San Antonio neighbors have a professional mold inspection performed anytime you suspect mold be in your home – even if you only notice that musty odor – mold often grows in dark hidden places where it can easily go unnoticed.
Typically, you will smell or see mold before any physical symptoms of prolonged exposure appear.
However, please be aware of the following symptoms can be caused by an undiscovered mold outbreak:
Respiratory Problems

Unexplained eye, nose or throat irritation

Chronic allergic reactions (coughing, sneezing, etc)
Unexplained fatigue

Unexplained rashes or other skin irritations

Headaches that won't go away
What Will I Pay for Mold Inspection & Mold Removal in San Antonio?
Every job is different, so we can't really generalize too much when it comes to cost. However, there are certain things that can cause our fees to go up or down.
For example…
The size or extent of the mold infestation – is it just on the surface or deeply ingrained into your structure. That could be the difference between simple mold removal and mold remediation (the latter being a more extensive, and generally, a more costly treatment).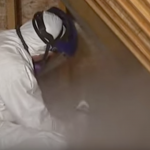 Or…
Is there toxic mold on-site, or the potential for spores to spread and infect other areas of the home? Then, more advanced techniques and technologies (i.e. hazardous materials disposal, negative air machines, etc…) may be required to contain the situation, which can add to the cost.
The list of potential complications goes on and on, but there are a few things can say for sure: 1) the proper removal, disposal and restoration of mold and mold damaged areas is not necessarily easy or cheap, 2) it is very important to start with a through and professional mold inspection to identify all trouble areas before any mold cleanup is attempted, and 3) make sure you are working with true professionals that have plenty of local experience!
Our local technicians will always…
Be Your Advocate

Provide a Simple Yet Detailed Assessment

Help You Make Informed Decisions

Provide A Fair and Accurate Up-front Estimate

Bill Insurance First
For professional mold & black mold remediation in San Antonio, call us!
If you are looking for water damage restoration in San Antonio, TX, Click Here.
Frequently Asked Questions
Can You Clean Up Mold Yourself?
The location of the mold plays a major role in how to clean it up. For example, you will need to use different tools depending on the location of the mold. Though you can clean mold by yourself, it is a dangerous undertaking and not something we recommend. When you scrub mold, it releases mold particles into the air, which you may breathe in. To prevent this, it is always better to opt for a professional cleanup team to help you with mold contamination. A professional cleanup team will make sure your home is safe from mold spores while they clean up.
What Is the Best Product to Kill Mold?
You can purchase products specifically designed for killing mold or you can use products that you have already lying around your house. However, it's best to get the mold inspected first to see the extent of the damage and to make sure the mold you have isn't black mold. Generally, pre-made products will cost you a little more, but the price tag may be worth the investment depending on how serious your mold contamination is. However, serious mold contaminations require extra attention. In many circumstances, mold will come back if not handled properly. This is why we recommend leaving mold cleanup to the experts. We can make sure your mold problems don't keep reoccurring after cleaning up.
Could I Use Bleach or Vinegar to Kill Mold?
When it comes to mold, not all contaminations are the same. Some contaminations infect far past the surface you can see mold while others are simple surface contaminations. To decide whether bleach or mold is the best product for getting rid of mold contamination, you need to take note of the surface the contamination is on. For contaminations on porous areas like wood, vinegar is best to kill mold while the bleach is better for harder surfaces. Though you can use these products to kill mold, there is no way to know if you have killed the source of the mold. A professional mold remediation team can help you clean mold and make sure it never comes back by locating the cause of mold growth.
Do I Need a Mold Inspection?
Chances are if you haven't ever had a mold inspection, you need one. Many people think their houses are free from mold, but this often is not the case. If you live in an older house, there is a good chance that there is mold growing somewhere unseen in the crawlspace or even the sheathing of your home. However, even modern houses aren't safe from mold contamination. Many builders try their best to make sure mold doesn't grow in their buildings, but it is impossible for houses to stay mold-free without taking very thorough measures. A mold remediation team can locate mold inside your home, even if it is not visible.
Precision Mold Removal San Antonio
1333 N Loop 1604 E Ste 205
San Antonio, TX 78232
We also service these cities: